Snowmobiling is a very fun activity, but it is a winter sport. This means having the proper attire is important both for safety and convenience. So here are some tips on what you should wear when you are ski-dooing this winter!
Layer Up! 
Since snowmobiling is a winter activity, layering up is important! This will not only give you some extra warmth, but it will provide some extra protection from the elements and varying weather conditions as well. If it isn't going to be too cold, it is important to pack extra clothes just in case the weather does change! 
Know What to Wear In Each Layer
Broken down into two layers (base and outer), it is important to know what to wear in each layer. For the base layer, wearing something that is polyester or synthetic will help keep you warm. Wearing long underwear or a "onesie" are good options as well! After that layer, packing on some more layers is good to keep you even warmer. 
For the outer layer, the most important aspect is it must be waterproof. A snow jacket and a pair of waterproof snow pants are necessities. Having them be heavy-duty and windproof are pluses as well. 
Wear the Right Socks
Socks are very important when ski-dooing as there is a high chance of them getting wet. With this in mind, never wear cotton socks! They get wet very easily and wet socks are uncomfortable and can make you feel a lot colder than you should. Instead, try to wear nylon, polypropylene, fleece, wool, silk, or synthetic socks. Make sure to bring an extra pair along since the first pair will most likely get wet! 
Always Wear a Helmet
A helmet should always be worn whenever you are ski-dooing. Not only does it protect your head, but it also keeps your head warm! Make sure your helmet fits snug on your head and has a strap that is also snug but doesn't choke you. You never want to get hit on your head while ski-dooing, so make sure to wear a helmet at all times! 
Wear Face-Shields or Goggles
If your helmet doesn't include a face-shield, consider buying one or a pair of goggles. These will keep your face warm and will protect your eyes from strong UV light that reflects off the snow. It also protects against low hanging branches and chunks of snow and ice that can be kicked up by your ski-doo. Having a variety of lens options are helpful as well. Consider having one for bright conditions and dark conditions, as this will keep you safer on the trails. 
Gloves for the Weather
Wearing waterproof and windproof gloves are essential for snowmobilers. Fingers and hands will get cold easily, so having a pair of heavy-duty gloves will keep them warm. You may think mittens are a better option, but they are rarely waterproof and windproof and don't give you great control of the throttle.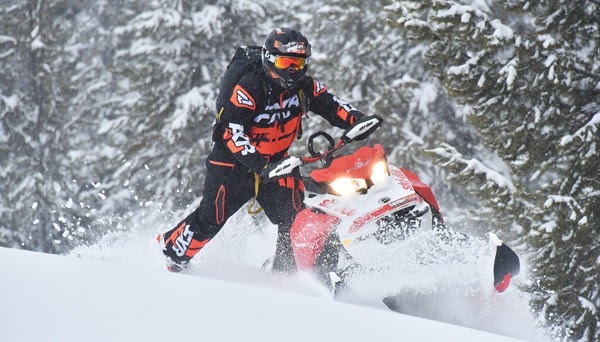 If you are looking for a Ski-Doo or Ski-Doo Gear for the winter, take a look at Gull Boats and RV! We offer a wide selection of both new and used Ski-Doos as well as gear, giving you the chance to find the best one for you! For more information, check out our website, give us a call at 406-549-6169, or visit our store!