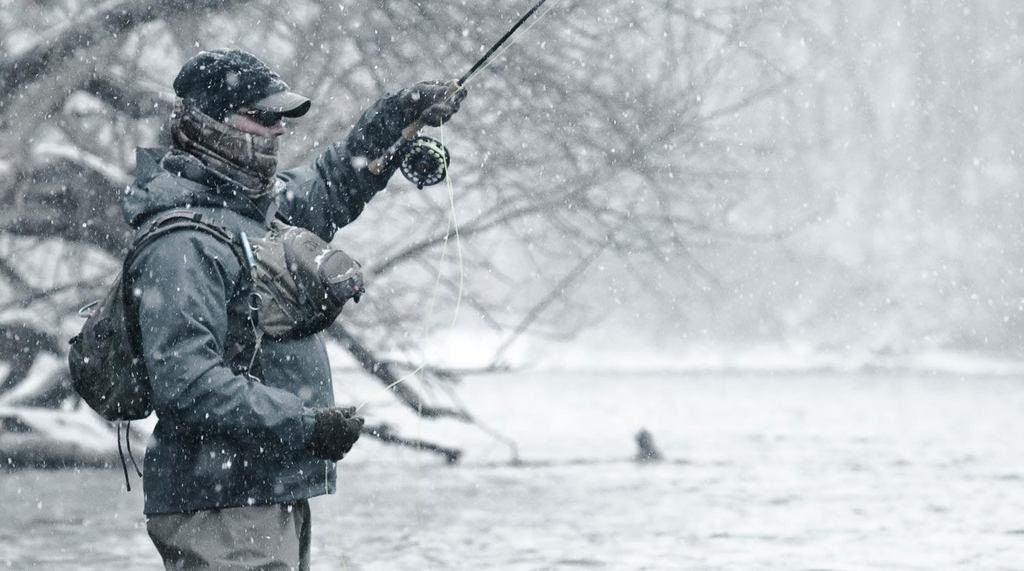 With winter underway, it is time to get some winter fishing going! Winter fishing is much different compared to fishing in any other season, especially when it comes to the things you need to wear. We've compiled a list of what you should wear when on your winter fishing trip! 
Layer Your Clothes
Layering up for winter fishing is the most important thing you can do. It inevitably will get cold when your fishing, so knowing how to layer is important:
Start with a base layer. Make sure this article of clothing is very warm but also allows moisture to escape. Fleece is a great option to have as your base layer. 

Next, sort out your mid-layers. This layer will help preserve the warmth created by your body, while also holding it in. A hoodie is a viable option as your mid-layer.

Lastly is the outer layer. This layer could be the most important as the weather can vary dramatically during the winter. Having an outer layer that is waterproof and windproof will keep you dry and comfortable on the more brutal winter days. Combining an outer layer jacket that is both waterproof and windproof with things like face coverings and glasses will make it more bearable. 
Fishing Gloves
Making sure the gloves you bring on your winter fishing trip are appropriate is a must. All gloves aren't made the same and most aren't suitable for winter fishing. Finding gloves that keep your hands warm, but also provide good grip can be hard to find, but are the best option. Try finding gloves with microfleece insulation on the inside and a textured outer layer as this will provide you with exactly what you need. 
Proper Footwear
You lose a lot of heat through your feet, so having the proper footwear is crucial while fishing in the winter. Rubber boots are a great option for winter fishing as they will keep your feet dry and keep them warm as well. Many are slip-resistant and the extra height of the boot will keep more of your body warm and it will make water harder to get in. Pairing a nice pair of rubber boots with a quality pair of socks will keep your feet even more warm and toasty! 
Winter Headwear
Keeping your head and neck covered when fishing in the winter is ideal. While any style cold-weather hat will do the job, one that covers your ears will be even better. Beanies combined with a neck and face-covering will do you wonders while fishing in cold conditions.
Keeping Hands and Feet Warm
Even with your clothing all set up and ready, your hands and feet may still get cold on the trip. Bringing some disposable hand and feet warmers will give you an extra boost of heat when the weather is much colder than you expected. There are also longer lasting and more sustainable heat and feet warming options that are rechargeable! This is perfect for those who know they'll be getting out on the water multiple times during the winter. 
If you want to get into winter fishing and are looking for a boat, check out Gull Boats and RV! We have fishing boats that will be perfect for your next winter fishing adventure! For more information, check out our website, call us at 406-549-6169, or stop by our store!